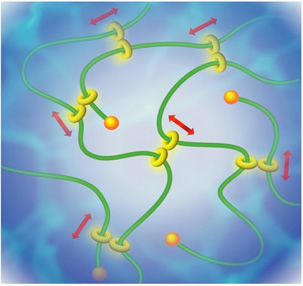 Most of chemically cross-linked polymeric materials usually fracture without reaching the full potential of polymer chains since outer tension tends to concentrate on shorter chains between junctions owing to large inhomogeneous cross-linking distribution in polymer network. The inhomogeneity generally increases with cross-linking density. To solve this problem in the polymer cross-linking fundamentally, we have recently succeeded in creating slide-ring materials with freely movable cross-links using polyrotaxane architecture, a typical supramolecular structure like a necklace.
In the slide-ring materials, many double-loop cross-linking junctions equalize the tension acting on polymer chains by moving along chains and reaching mechanical equilibrium in nanoscopic molecular level. This can drastically homogenize the structure and stress in cross-linked polymeric materials, which is called the pulley effect.
The slide-ring materials emerged as a slide-ring gel but now the concept has been applied effectively to wide area of polymeric materials without solvent such as textiles, fibers , paints, and so on.